The leading customer portal for refined products & NGLs
After a contract is executed, how do you communicate BOLs, invoices, contract volumes and prices? With Gravitate, share transaction data from your ETRM system (Rightangle, SAP, Allegro) directly to your customers. Gravitate drives transactional efficiency by making it easy for customers to access their data and ultimately saving you time and money.
"
Gravitate has enabled us to interact with our customers on a whole new level. They can access their transaction data 24/7 and we save precious time in the process. It's a true win-win situation.
Self-service access
Provide your customers with quick access to lifting information, contract performance and invoice details.
Automated dispute resolution
Should there be an invoice dispute, Gravitate provides an automated dispute resolution workflow, notifying customers and marketers of their required actions.
Keep customers engaged
Gravitate's built-in notification system delivers personalized emails and text messages to alert customers of price changes, lifting requirements and weekly summaries.
Quick to implement
Built-in integration to most ETRM systems enables rapid deployment and low-drag implementation.
Reduce overhead
Enabling your customers to access their own data reduces administrative overhead and frees up marketer time to secure more sales.
SOLUTION
FEATURES
Connect with your customers online
Streamlined Communication
Give customers access to their data and strengthen customer loyalty
Enable customer self-service
Enable your customers to access their data when they want it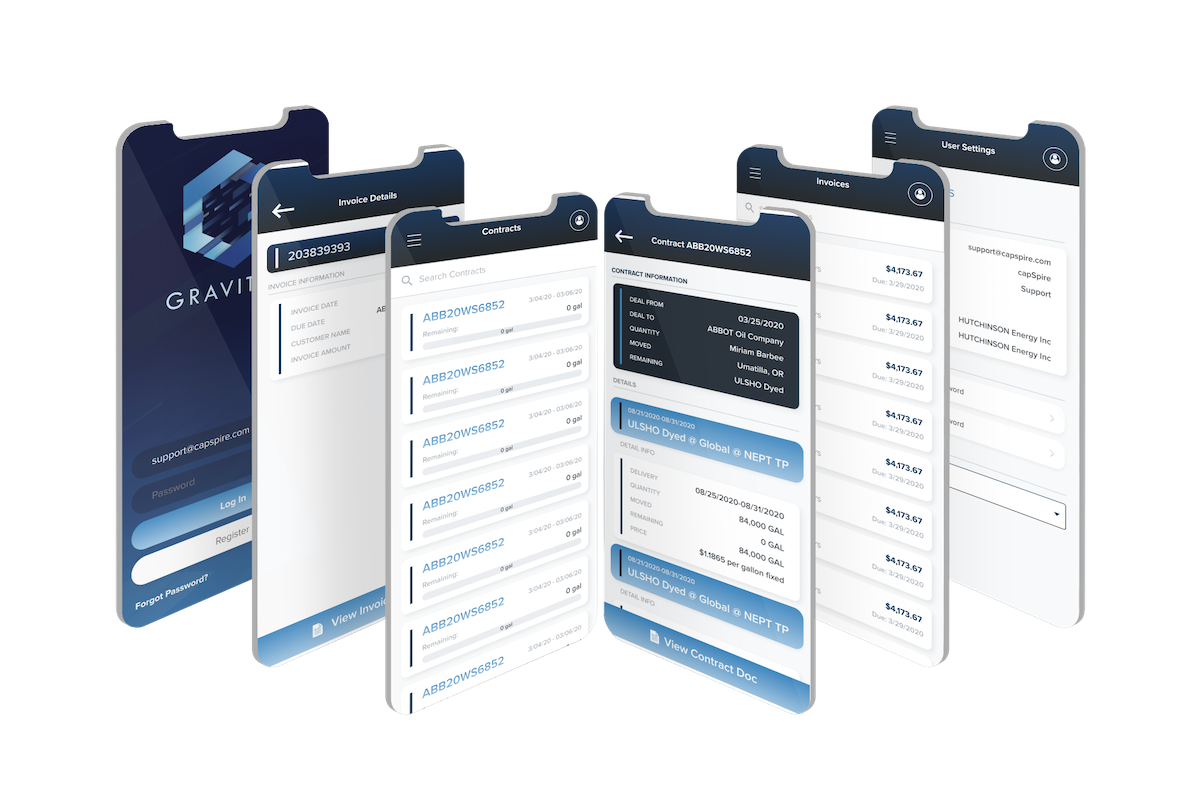 Eliminate time-consuming emails, texts and phone calls
Customer Self-Service
Let your customers login to Gravitate when they want a contract update, missed an invoice or need a BOL. Save time and eliminate low-value emails, calls and texts.
Automate Processes
Whether it is anything from disputing invoices to surfacing PDF documents for downloading and printing, the Customer Portal can be a powerful tool through automating processes.
Dashboards keep marketers in the driver's seat
Role-Specific Dashboards
A customer-centric dashboard keeps marketers informed about their customers and the market.
Completely Customizable
Configure the dashboard for each type of customer your business supports, so they have what matters most to them at the tip of their fingers.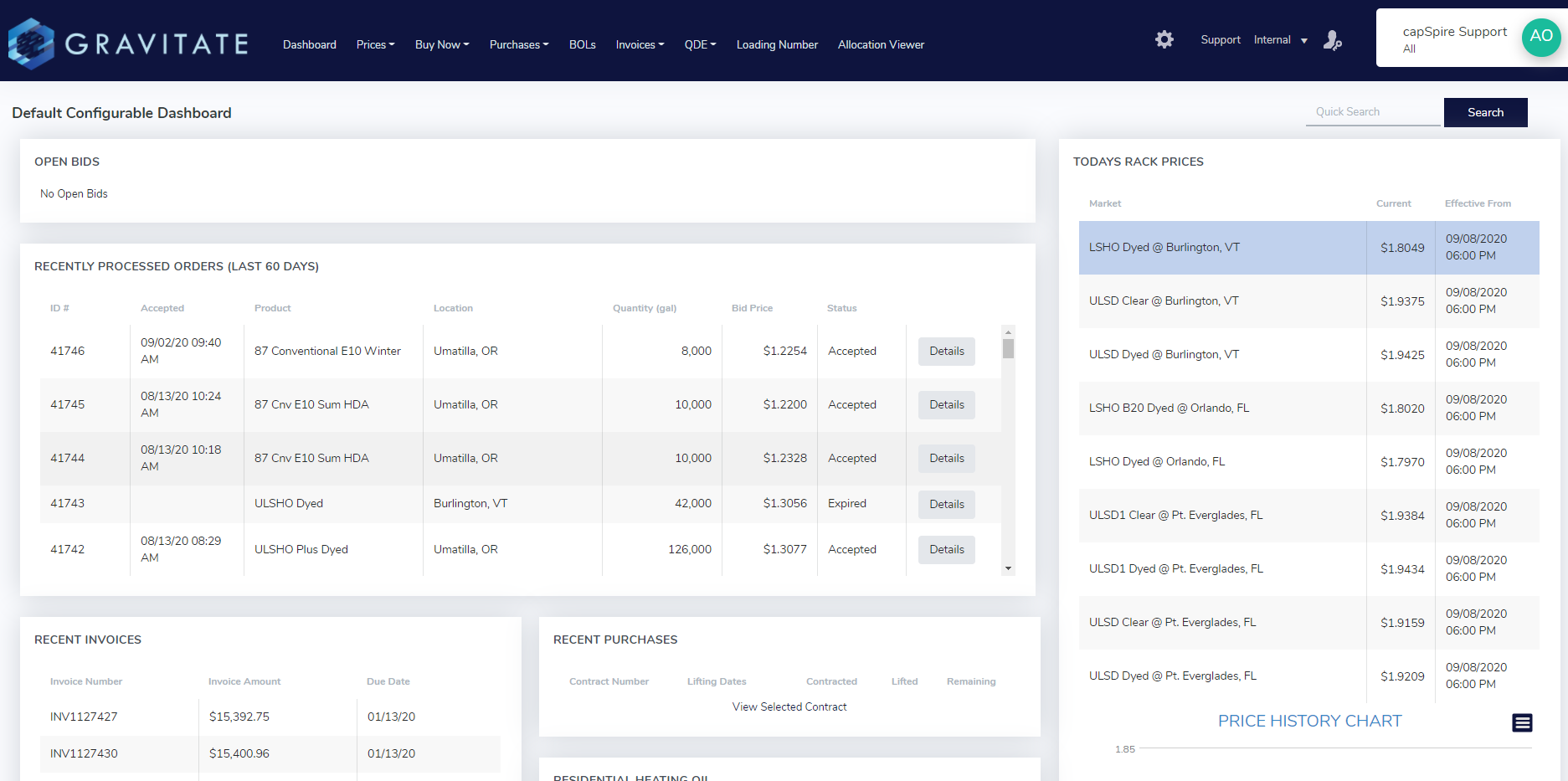 ENABLE CUSTOMERS TO ORDER ONLINE
Streamlined Order Management
While your customers are checking contracts or catching up on invoices, Gravitate enables them to order NGLs or refined products online.
Schedule outbound railcars
Avoid time-consuming back and forth conversations with producers and marketers and enable them to schedule trucks and railcars through the portal.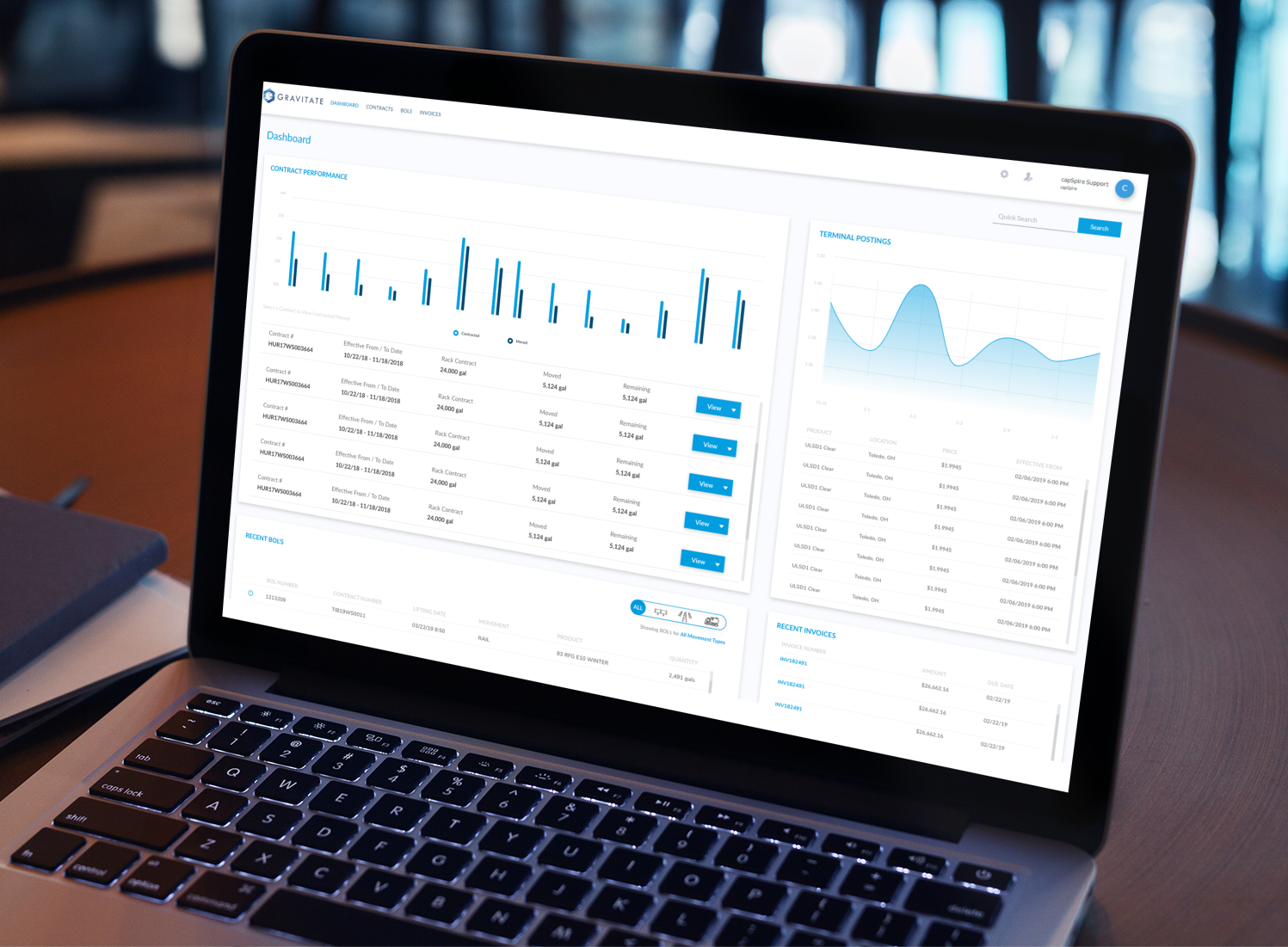 Lower Administrative Costs
Reduce admin costs and free up marketer time by eliminating time-consuming emails, phone calls and text messages.
Build your brand
Corporate branding and mass-marketing tools enables you to improve your customer experience and brand-awareness.
Customer 360
Provide your marketers with a 360-degree view of their customers and enable a more tailored approach to selling.
Process Automation
Drive more internal efficiency with Gravitate's automated dispute resolution process.
Customized Dashboards
Deliver web-based dashboards and interactive charts with tailored information for each contact that your business interacts with.
Keep in Touch
Stay in touch with your clients by using Gravitate's built-in notification system designed to deliver personalized emails and text messages to alert clients of price changes, contract lifting requirements and weekly summaries.
IT'S EASY TO GET STARTED
Reach out and request your free, personalized demo today.
Proven Results In
Weeks, Not Years
Discovery Session
30 minutes
Benefits Case and Simulation
3-4 days
Implementation, Testing and Training
4-8 weeks
Positive Return on Investment
< 1-year
Join Our Community
get visibility into the new problems we are tackling through our solutions