Reduce Fuel supply cost, increase truck utilization, and manage more with less.
There's standard dispatch software – and then there's Gravitate Best Buy. Built for the c-store business model, this integrated optimization and dispatch solution is transforming the retail fuel industry. Now, you can access better support for day-to-day supply decisions, oversee logistics, and manage transportation, demand planning, and route optimization all on one platform. Welcome to a new level of productivity.
"
After reviewing a number of dispatch and optimization systems on the market, we chose to go with Gravitate Best Buy and Dispatch, because it truly checked all our boxes. We have a dynamic business, and we needed a solution to fully support all avenues of it today and be flexible to meet our needs in the future. This solution is expected to help us drive down transportation costs and optimize our fuel supply cost, among other advantages.
ERICA KIES
Petroleum Project Manager

INCREASE TRUCK UTILIZATION
15-20% increased truck utilization via real-time route optimization
QUICK TO IMPLEMENT
Modern software framework and cloud-ready architecture makes implementation a breeze
REDUCE SUPPLY COSTS 25-75 basis points
Reduce fuel supply costs by optimizing your entire value chain
SIMPLE, YET POWERFUL
Easy to use, quick to learn, customizable to your specific needs
DECREASE NUMBER OF RUNOUTS
Featuring ML-based demand forecasting and visibility into your tank volumes
SOLUTION
FEATURES
connect with your 3rd party CARRIERS
Automated allocation of orders to internal drivers and third party carriers
Minimize logistics costs while keeping stakeholders in the loop with automated email delivery tickets
Third-Party Carrier Portal
Carriers can receive orders, upload BOLs and store tickets on a single, easy-to-use system.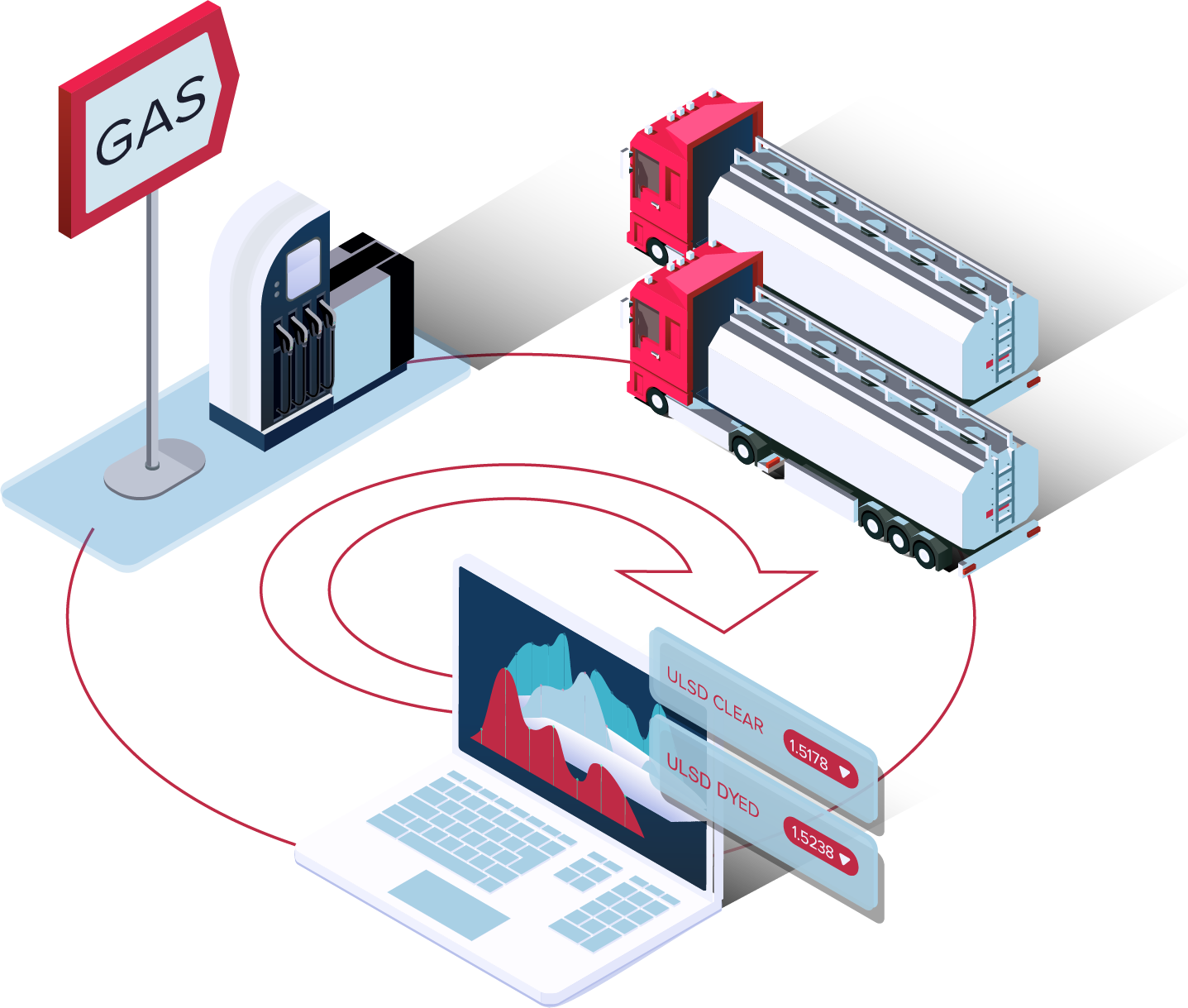 Let the AI do the heavy lifting
Bestbuy Optimization
Start making unbiased, network-wide supply decisions.
Route Optimization
Our AI-based route optimizer allocates orders to the optimal drivers and selects the ideal third-party carriers when needed.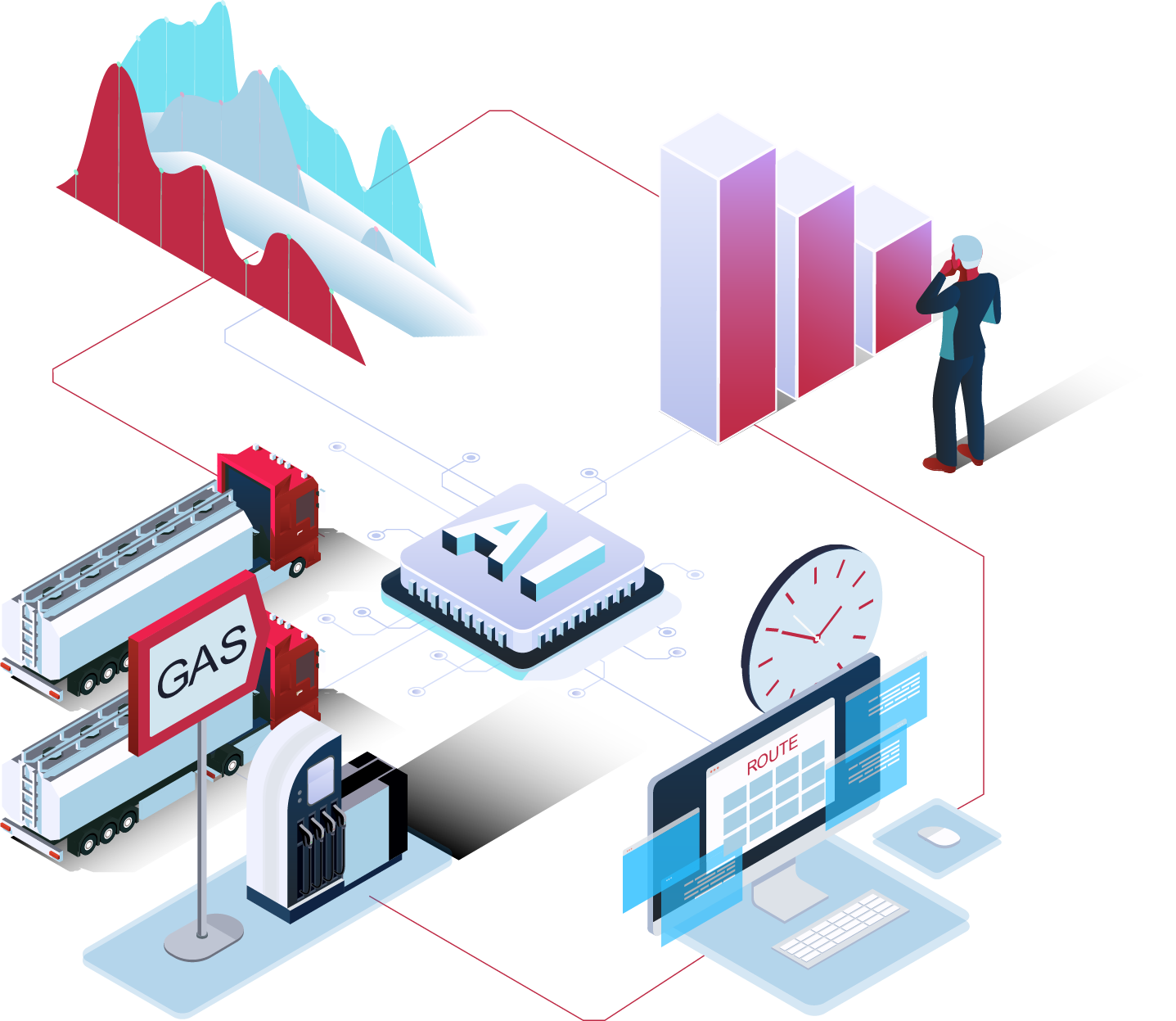 Keep track of store inventory and gain reliable forecasts
Real-time store monitoring and demand forecasting
Receive automatic tracking and low fuel updates right at your fingertips.
Certainty in your forecasts keeps you in the driver's seat
Optimize supply decisions through accurate and reliable learning-based machine models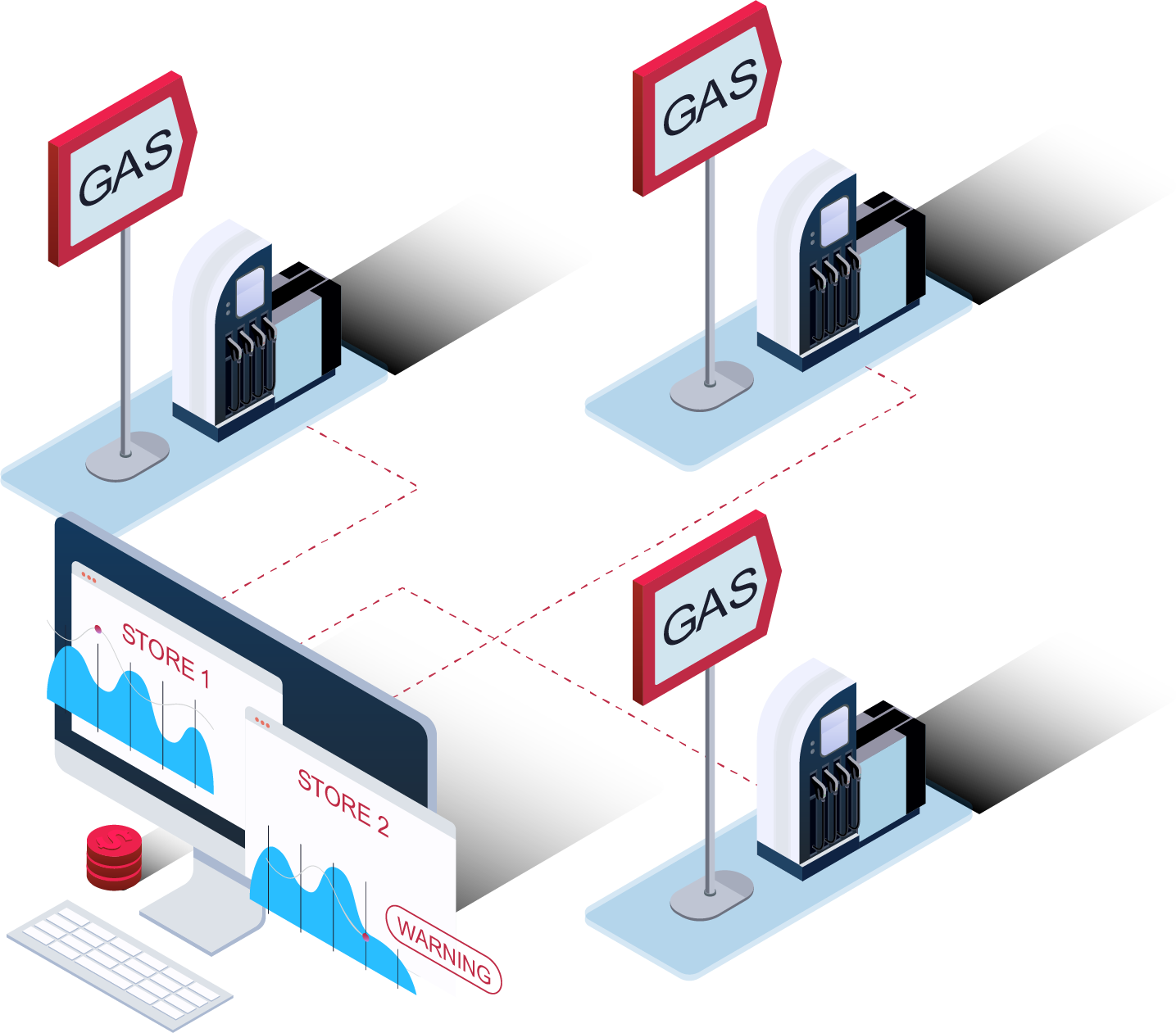 Lower Costs
Reduce fuel supply costs by 25-75 basis points through advanced network supply decisions.
Increase Truck Utilization
Use real-time route optimization to improve fleet utilization by as much as 20%.
Automate Store Fulfillment
Manage more trucks with 50-75% fewer resources.
Load Optimization
Maximize volume per truck, reducing your freight costs by up to $1 million per year.
Improve Carrier Management
Drive stronger results with fewer lift mistakes and reduced accessorials.
Decrease Runouts
Manage more trucks with 50-75% fewer resources.
Minimize Cross Drops
Tank monitoring and nearly real-time logistics optimization help you oversee operations with better foresight and demand planning.
IT'S EASY TO GET STARTED
Reach out and request your free, personalized demo today.
Proven Results In
Weeks, Not Years
Discovery Session
30 minutes
Benefits Case and Simulation
3-4 days
Implementation, Testing and Training
4-8 weeks
Positive Return on Investment
< 1-year
Join Our Community
get visibility into the new problems we are tackling through our solutions